Noah's Suitcase
Fashion Indie Man
Panda's
Funeral
:(
Excuse me ladies!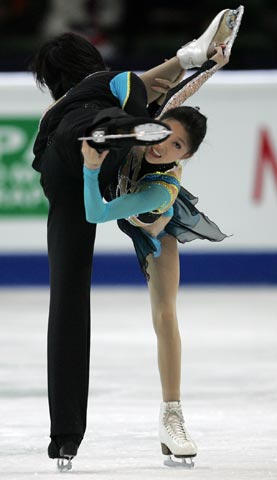 Remember this?
Day 3:
Chinese figure skating pair Zhang Dan and Zhang Hao, trailing a dominant Russian pair, attempted a throw quadruple salchow jump—an element which had never been successfully completed in competition. Zhang Dan fell, injuring her knee, but the pair finished their program to a standing ovation and took the silver medal.
U-MIN
-crrreepy!
Hwang-Kum Style
Each of Fuwa has a rhyming two-syllable name -- a traditional way of expressing affection for children in China. Beibei is the Fish, Jingjing is the Panda, Huanhuan is the Olympic Flame, Yingying is the Tibetan Antelope and Nini is the Swallow.
When you put their names together -- Bei Jing Huan Ying Ni -- they say "Welcome to Beijing," offering a warm invitation that reflects the mission of Fuwa as young ambassadors for the Olympic Games.
**
***
**